My story
I was born just during WWII.
The first toys I received from my parents were very simple and mostly made out of wood.
The variety of toys in those days was very poor, not to compare with nowadays.
I remember, as I still keep some of them; a wooden wheelbarrow, a small cart pulled by oxen, again made out of wood, a clockwork representing a hotel valet delivering goods with his push cart.
When WWII was over, things went better and I received a Meccano set as a Christmas present.
My first idea was to build an aeroplane, but obviously I could not fly it.
Only at the end of my secondary school, I discovered balsa wood and I started playing with it to build small model aeroplanes, which eventually could fly this time.
Every Sunday, some fellows older than me were meeting in a small park of my village to fly their homebuilt models.
I could spend hours watching them in their evolutions and I have to admit, with a bit of envy.
At the age of fourteen, after a few unsuccessful attempts of building elastic powered model planes, at the end I succeeded to build a small glider with a wing span of 1,20m, which was flying smoothly, but it lasted only few weeks.
In fact, due to my poor experience and it being my first serious project, one day it stalled and went in pieces.
Unfortunately, in those days, none of my friends or school mates shared with me the interest in model building, and the older fellows I mentioned before, were playing in their own yard.
Being practically alone in this hobby, my enthusiasm gradually vanished, but did not disappear completely.
After finishing my studies, I moved to Milano and start working as Sales Engineer, travelling all across Italy and sometimes even outside.
One day, during a business trip, before catching a plane, I saw by a newsagent a model magazine with a very appealing cover page.
I could not help to buy that magazine and read it during my flight.
That was clear evidence that my interest for model planes was still alive and in fact ready to explode even stronger than before.
The magazine, called Model Builder, was displaying in the cover page a strange sailplane, never seen before, built probably in scale 1:4. and it was possibly reproducing an existing sailplane that maybe was still flying somewhere.
This scale model was photographed before being launched from a slope and I could imagine it flying smoothly in a picturesque mountainous environment.
I read that article several times, before deciding to start a new building venture.
I studied the drawings included in the magazine featuring many building details and then I started looking for suitable material to start the construction.
My first attempt was in scale 1:5, which was ending up with a model of about 2,20 meters wing span.
It took about six months to finish it, but at the end my time was well spent, as the radio controlled Baby Albatross did fly beautifully in the Italian Alps.
One thing which I realised while assembling my model, was that even if the drawing was quite clear, some details where missing and I did not know how to solve them.
Later consulting with some model builders whom I met in the meantime, I came to the conclusion that to build a real good scale model, one must see the original machine and study it in the finest details.
How? Taking a lot of pictures even inside the cockpit, but where to find a full size Baby Albatross?
I learned that there were a few Baby Albatross somewhere in the United States, some displayed in Museum and others still in flying condition.
The first time I had a business trip to USA, I decided to make a small D-tour and meet my beloved Bowlus Baby Albatross.
By the way, I forgot to mention that the Baby Albatross was designed by Hawley Bowlus in 1937 and sold as a kit for $75.00.
In may 1993 I finally succeeded to see a full size Baby Albatross in Hemet, California, during a Vintage Meeting called Western Regatta and I got the special award for the longest distance visitor.
Mrs Ruth Bowlus was the special guest of that event and she was very surprised and honoured, she said, to see an Italian making such a journey to see the sailplane designed and built by her late husband.
As souvenir, she presented me with the handbook which was needed to assemble the kit.
The same day I had my first glider flying experience and I was offered a ride in the two-seater Slingsby T-21.
From then on, I changed my point of interest from Model Builder to "Vintage Glider Specialized Passenger", and all vintage two-seater sailplanes which I came upon, became mine to fly in.
Later on, I subscribed to all major vintage associations starting with the Vintage Glider Club (VGC) founded by Chris Wills in 1973 in the UK.
Then I joined the Vintage Sailplane Association (VSA) of America.
I am also in contact with the French Vintage Association called Dedale.
Every year all three groups organise national and international vintage rallies and I am trying very hard not to miss any of them.
Besides offering the chance to fly, these rallies offer also the opportunity of meeting many people with whom to share the common interest of vintage gliding.
Besides enjoying flying, I also grew a great interest for the history of gliding and its origins.
Thanks to the many contacts which I developed in the past ten years, I learnt many things about the history of gliding and collected a lot of historic material such as books, magazines, drawings, documents and photographs.
I still believe this is only the beginning.
There are many things to learn and many new people to talk to and exchange information.
As an Italian, I think I know more about the Italian history than from other parts of the world and I am ready to share my knowledge with whoever wishes to contact me.
I like to remember that I wrote and published a book called: "Asiago, the start of gliding in Italy".
It's in both Italian and English.... with my strong Italian accent of course.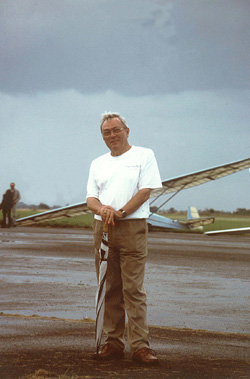 Tibenham: Here I am in Tibenham (England) in August 2001for the annual VGC rally
<!spazio!>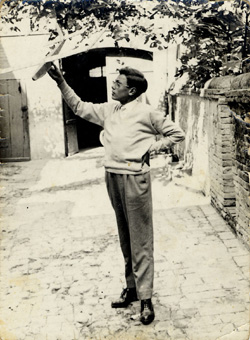 That's me at the age of 14, with my first model glider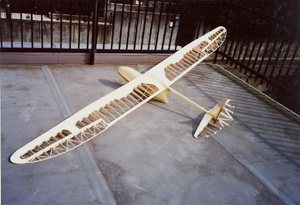 The Baby Albatross in 1:5 scale, before being covered with fabric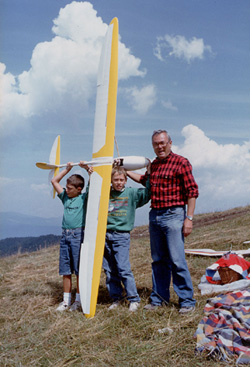 Family picture...taken on a slope in Folgaria, before the maiden flight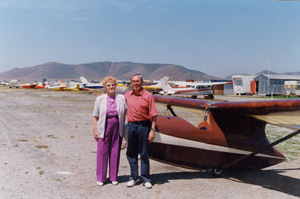 Hemet Ca. (USA) Hawley Bowlus's widow Mrs. Ruth Bowlus and me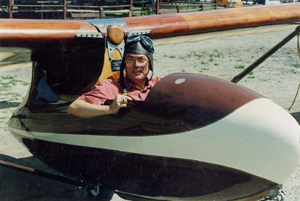 Hemet, Ca (USA). My dream came true...The Baby Albatross in full size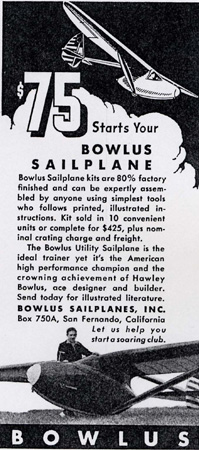 The Bowlus Company offered a Baby Albatross kit for only $ 75.00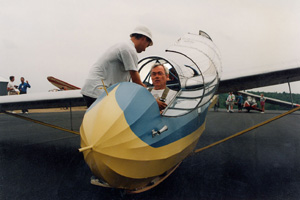 Elmira (USA), July 1995...the true pilot sits in the back seat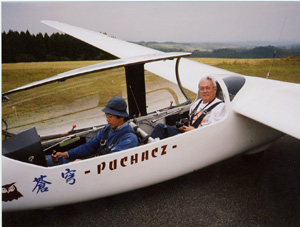 Kiuju (Japan); October 2002. The Specialised Passenger is ready to take off